Unsurpassed. Time. And time again.
As the day breaks, you'll undoubtedly be eager to begin your fly-fishing adventure on the Bighorn River. But exquisitely-prepared meals await throughout the day, and at day's end, the Lodge is the perfect setting for sharing once-in-a-lifetime stories of the day.
If you are a guest at the Bighorn River Lodge it is because you love fly fishing, or you are eager to learn the art of the craft. In either case, we are always rewarded by the experience. But the real bonus is the camaraderie we develop along the way between old friends and new alike. Maybe it's analyzing the morning's effort during a lunch break on the banks of the river, stories of the day's success on the deck back at the lodge, conversation over a sumptuous meal at the dinner table or perhaps just sitting around the firepit at days end with the Milky Way overhead. The memories we take home and cherish are not only those of the fishing, but just as valuable and memorable are those with whom we shared it.
Your epic day of fishing the Bighorn River will conclude at the Lodge's private boat ramp where our attentive staff awaits your arrival. The Bighorn River Lodge is the only lodge situated directly on the bank of the upper Bighorn River, so jump out of your waders and into the inviting atmosphere of a resort that reflects the rustic elegance and hospitality of the Big Sky Country.
The Bighorn River Lodge is crafted in the log-style construction that is representative of historic Montana. The Lodge comprises of five different bedrooms each with its own unique personality and décor. Guests enjoy luxurious double occupancy rooms that have been updated and renovated for your comfort. Each room features a pair of soft, warm beds adorned with fine linens, a private bathroom and plush accommodations. King size beds are available for couples on request. With the addition of the Caddis Cabin, we can easily accommodate groups up to fourteen.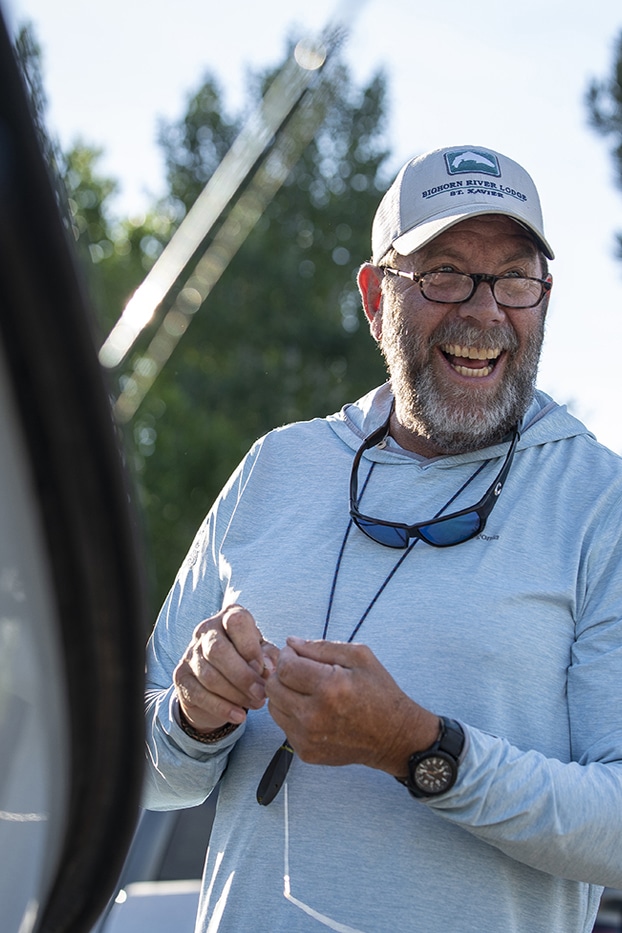 A warm and inviting hearth room is where most guests congregate to swap stories of the big one that didn't get away. Enjoy a crackling fire in the fireplace and delicious hors d'oeuvres. Step out onto our spacious deck and take in one of Montana's breathtaking sunsets while the finishing touches are made on dinner.
The Bighorn River Lodge has been described by our guests as "a gourmet restaurant disguised as a fishing lodge." Guests can expect hearty Montana-style breakfasts, delicious handmade boat lunches, and savory home cooked dinners that are beyond compare. It is truly exquisite cuisine, prepared from scratch every day.