Unsurpassed. On and off the river.
The Bighorn River Lodge provides unsurpassed beauty, adventure, and memories in spectacular Montana. We create a fly fishing experience like no other with gourmet cuisine, the rustic elegance of a classic western lodge, and the beauty of the Bighorn River accompanied by expert guides. We are the destination for your unsurpassed Montana fly fishing experience.
Montana's Bighorn River, considered by many the country's premier blue-ribbon fishery, winds its way through the pristine and undeveloped fields and towering bluffs of the Bighorn Valley. With the completion of the Yellowtail Dam in 1967 the Bighorn has become a clear, cool tailwater fishery hosting around 3,000 + fish per mile. The beautiful resident Rainbows and Browns range from 14 to 20 inches on average with some exceeding the 20-inch mark. The varied character of the river with its multitude of runs, riffles, and gravel bars, offers multiple opportunities to wade fish or fish from boat on the 13-mile float from the headwaters to the private boat ramp at the Bighorn River Lodge.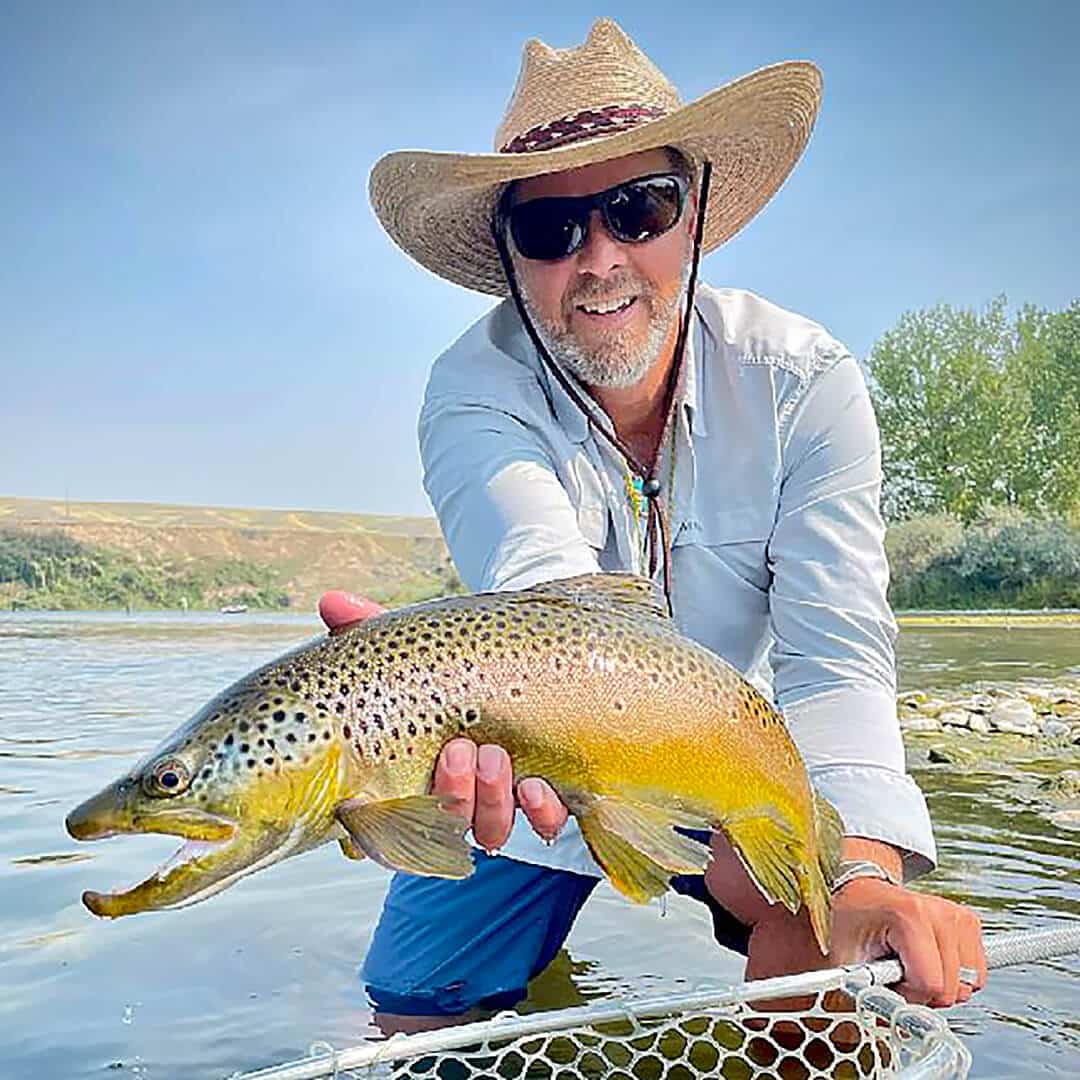 Montana. There's more to Big Sky Country than beautiful skies.
Vast open vistas and clear, cobalt skies. And miles upon miles of solitude, waterways and mountain rangers. Montana's most popular river, the Bighorn, lies at the eastern edge of the Pryor Mountains and flows north into Montana through the Crow Indian Reservation and onward to the Yellowstone River. The Bighorn River Lodge is located near two of the country's most storied national parks. One-hundred-fifty miles to the west lies Yellowstone National Park, the nation's first national park, with the Little Bighorn Battlefield National Park only 30 miles to the east.
Montana fly fishing is a sport filled with beauty. The graceful arc of the fly line, the gentle whisper of the cascading water, the sunlight shimmering off the riffles, combined with the fact that there are beautiful big trout just a cast away, make this moment an unsurpassed experience.
For those who are interested in learning the art of fly fishing or those who may just want to brush up on their skills, the Bighorn River Lodge offers classes with one-on-two instruction. These classes are led by some of Montana's best guides, who are experts in teaching the art of casting, reading rivers and fly selection. You will learn the fundamentals that will turn your interest into a passion.