Unsurpassed. The way it was intended.
They say our reputation was built on world-class fly fishing. Our renown chef might argue with that. Here you'll enjoy exceptionally, fresh, culinary creations for your every meal.
At the Bighorn River Lodge, the food is as memorable as the fishing. We are dedicated to using only the finest and freshest product available. Our meat is shipped from Prairie Harvest right next door in South Dakota and our fish arrives twenty-four hours after being caught from one of our purveyors in Washington State. Our unique ingredients such as, lion's mane and morrell mushrooms, spring ramps and miner's lettuce come from another one of our purveyors in Washington State. We also supply some of our vegetables and herbs from our own organic greenhouse and garden, and when necessary we purchase produce from local sources and purveyors throughout the Northwest.
Everything is made from scratch. From our own beef jerky, to our homemade ice cream, to our fresh baked breads we use only the finest ingredients. Our Chef Spencer Newton and the talented kitchen staff work tirelessly every day to prepare a cuisine akin to any fine dining restaurant. Enjoy watching the artistry of our chef and kitchen in the open gallery kitchen as they prepare your four-course meal. Be our guest and expect to be impressed.
Awaken to the smell of Montana roasted coffee brewing while bacon sizzles on the griddle. As your guide prepares the boat for your day on the river, sit down to enjoy a home-style hearty breakfast, We always offer healthy options to the standard breakfast fare.
Just ask any guide, the Bighorn River Lodge is known for having the best boat lunches on the river. No PB and J sandwiches here (unless requested, of course!). When lunchtime rolls around, your guide will find a quiet spot on the banks of the Bighorn River to enjoy your lunch.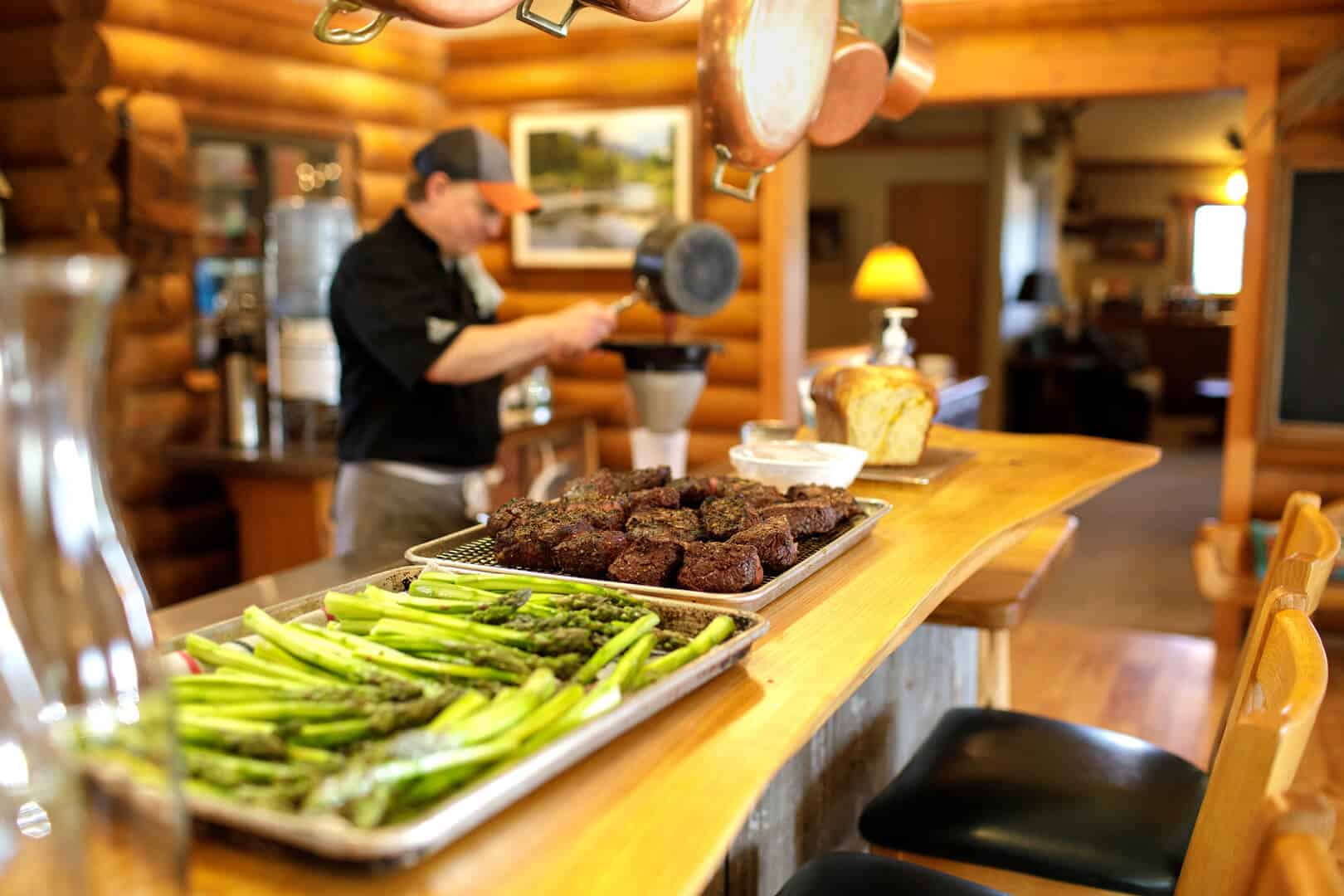 Evening is a time to unwind and kick back with your companions. Enjoy a cool drink and an appetizer on the spacious deck overlooking our five-acre bass pond with the Pryor Mountains in the distance bathed in the early evening sunlight.
A fabulous dinner is just moments away. Dinning together at our long lodge table is a perfect time to share your stories with new acquaintances and create new friendships.
Your enjoyment is our top priority. Please inform us of any dietary needs you have, and we will work to accommodate you!